Filter by Category
Cooking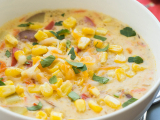 Fallin' For Chowda
with Gretchen Preston

Oct 25, 2017 at 6 pm
, runs for 1 week
You will learn to prepare 3 different warming chowders for fall, including clam and corn.
Instructor Gretchen Preston has enjoyed creating beautiful and delicious desserts for family and friends since she was very young. She opened her own home based bakery and specializes in weddings, special celebrations and events. Please visit Gilford Gourmet website at www.gilfordgourmet.com
*An additional supply fee of $25.00 is required for this class
Course will run
Perfect Pizza at Home
with Gretchen Preston

Nov 15, 2017 at 6 pm
, runs for 1 week
You will learn several different types of pizza crusts, use of and toppings to create your own artesian pizza at home!
Instructor Gretchen Preston has enjoyed creating beautiful and delicious desserts for family and friends since she was very young. She opened her own home based bakery and specializes in weddings, special celebrations and events. Please visit Gilford Gourmet website at www.gilfordgourmet.com
*An additonal supply fee of $20.00 is required for this class
Course will run